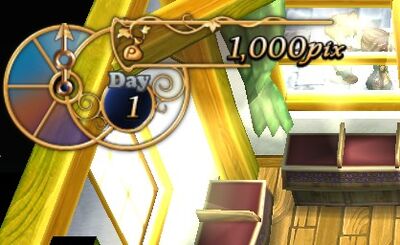 Time Management is a key part to playing Recettear: An Item Shop's Tale.
There are four time periods in each day:
Morning - the day always starts off on a morning. Everything except the Pub is open in town. The Adventurer's Guild is open from the morning except on Sundays.
Noon - follows on from morning.
Evening - follows on from noon. The Pub is now open.
Night - follows on from evening. The Pub is still open. The Chapel, Market, and Adventurer's Guild are closed. At the end of the night, Recette goes to sleep and prepares for tomorrow.
Acts which don't use up any period include:
Exiting the item shop and immediately returning to the shop without visiting any other location.
Going to the adventurer's guild but then returning to the shop without going to a dungeon.
If in town, moving between locations in the town that are not the Recettear or the dungeons.

Acts which use up one period include:
Opening the shop to trade.
Exiting the shop, visiting a location in town, and returning to the shop.

Acts which use up more than one period include:
Visiting the dungeon uses two periods, if you go straight to the Adventurer's Guild from the shop.
So going shopping, then dungeoneering, then shopping again will use up an entire day before Recette returns home. If Recette only goes straight to the dungeons without side trips, then two adventuring expeditions can fit into one day.