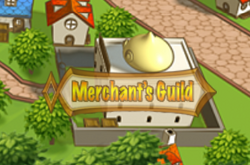 The Merchant's Guild is your first point of call upon starting a new game. It is one of two places in Pensee where you can purchase items for your store, the other being the Market.
The guild is run by the Guild Master who is also a customer. Note that he is no less likely to purchase anything you just bought from the guild than anyone else is.
Buy
The items sold by the Merchant's Guild depends on your Merchant Level.
Some weapons like Arma's Parts and Griff's Claws are not sold until the hero using them is recruited.
Initially the guild stocks 2-5 Tier 0 items and 1 Tier 1 item. Once you reach Merchant Level 4, Tier 0 and Tier 1 become unlimited and Tier 2 is accessed with 1 item in stock. Each consecutive time the previous Tiers become unlimited and the newest Tier stocks only a single item. There are certain exceptions to this rule:
Giant's Fist, Spellclaw and Drill Arm remain in limited supply at Tier 4.
There is no Tier 5 Arm Part.
There are 2 Tier 5 Clothes.
Sell
Any item can be sold back to the Guild for 30% of the base value. High/Low price trends push this to 36% and 24% respectively, though still a considerable loss.
Fusion
Fusion unlocks at Merchant Level 5 and can be used to craft powerful items that cannot be obtained through other means. For more information visit the Fusion page.
Talk
The guild master offers wordy tutorials for the topics.
What is the guild?
What can I do here?
About merchant levels
About the town
About unknown items
About fusion
These should be read on a first playthrough but can otherwise be ignored.
Community content is available under
CC-BY-SA
unless otherwise noted.